As businesses continue to rely on technology to operate, the need for reliable and efficient IT management becomes increasingly important. From meeting compliance requirements to delivering a better customer experience, a managed IT service can provide your organization with the expertise and support you need. Managed IT providers offer a range of services to help organizations manage their technology infrastructure and improve their overall performance.
What Are Managed IT Services?
A managed IT service provider is a company that offers a range of IT services to businesses. Managed IT services can include network management, data backup and recovery, cybersecurity, cloud computing, and more. The goal of a managed service provider (MSP) is to help businesses improve their technology infrastructure and overall performance while reducing costs and increasing efficiency. By outsourcing IT management to a managed IT services provider, businesses can focus on their core operations and leave the technical details to the experts.
Why Should My Business Partner with a Managed Service Provider?
There are many benefits to using a managed service provider for your business. Managed IT services allow your business to:
Obtain Access to Experts
Managed IT service providers offer expertise and support in areas where businesses may lack knowledge or resources, such as cybersecurity and cloud hosting. The right MSP can help your organization stay up to date with the latest technology trends and best practices, while also improving overall performance and customer experience.
Achieve Better Compliance
With increasing regulations governing compliance and given the ongoing proliferation of data breaches, it's important for businesses to safeguard their sensitive information. Managed IT service providers help businesses stay compliant with Canadian data residency requirements, as well as with regulations such as:
Improve Customer Experience
By providing reliable and efficient IT support with better uptime, businesses can ensure that their customers have a positive experience when interacting with their company. This can include faster response times to customer inquiries, smoother online transactions, and personalized communication.
Realize Cost Savings and Increased Efficiency
One of the biggest advantages of managed IT is cost savings. By outsourcing IT management, businesses can avoid the cost of purchasing and maintaining expensive hardware and software and provide support to internal IT teams or even replace the cost of hiring and training internal teams.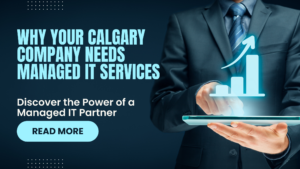 Who Offers the Best Calgary Managed IT Services?
 The ITeam is a top-ranking managed service provider in Calgary. Our services are designed to support Calgary organizations.
 24/7 Monitoring and Unlimited Support Services
We can immediately identify and correct issues, providing remote and onsite maintenance. As a result, your business is always protected.
Asset Management
We handle software license renewals, hardware contract management, ISP and domain management, and warranty administration, so you can focus on business operations and customers.
Fixed-Rate Monthly Package
Our team offers an affordable fixed-rate monthly package that caters directly to your needs. Predictable monthly costs make it easier for you to plan.
Priority Call Response
We guarantee a response within an hour, but response time is typically measured in minutes.
Cloud Storage and Hosting
We provide public and private cloud services through Microsoft Azure and our own private hosting solution right here in Calgary. This frees your organization from having to make capital investments in infrastructure or from absorbing the cost of maintaining that infrastructure.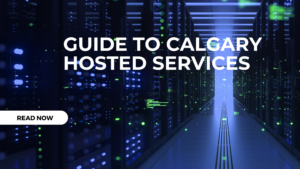 Virtual CIO
Our vCIOs provide expert consultation on issues relating to capacity planning, remediation of chronic or recurring issues, budgeting, and IT strategy planning. We get to know you, your business, your client needs, and your goals, so that we can help ensure your IT strategy is aligned with your needs.
Backup and Disaster Recovery Planning
We ensure that your data is on-hand when you need it, no matter what happens. If the worst happens and you're not able to operate your business from its normal location or if you're unable to use your network, an effective disaster recovery plan will let you continue to meet your customers' needs.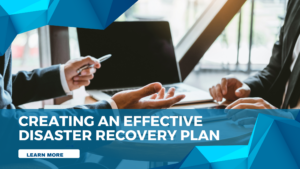 Annual Security Reviews
We review your services, goals, and infrastructure every year and make recommendations for necessary adjustments and additions to the network and system security.
Read more about outsourcing IT in Calgary.
How Do I Choose the Right Managed Service Provider in Calgary?
Calgary business owners understand the need for reliable, cost-effective IT services to keep their operations running smoothly. But with so many providers to choose from, how do you know which one is right for your business?
Determine Your Organization's Needs
Before you start comparing managed service providers in Calgary, it's important that you understand what your organization needs from an MSP partner. Consider the size of your business, the complexity of your IT infrastructure, and the level of support you require. This will help you narrow down your options and find a provider that can meet your unique needs. Make a list of your requirements and prioritize them based on their importance to your business. This will help you evaluate potential providers and make an informed decision. Request a network assessment from The ITeam.
Research Potential Providers
As you evaluate Calgary managed service providers, look for companies with a proven track record that have experience working with businesses like yours. Read reviews and testimonials from their clients and don't be afraid to ask questions about their services, pricing, and support options. A reputable provider will be transparent and willing to answer all your questions.
Check for Certifications and Experience
Look for providers that have certifications from reputable organizations, such as Microsoft, Cisco, and CompTIA. These certifications demonstrate that the provider has the necessary skills and knowledge to deliver high-quality IT services.
Consider Their Customer Support and Responsiveness
Providers should offer 24/7 support with reasonable response times and escalation procedures for urgent issues. A provider that prioritizes customer support and communication will be better prepared and better equipped to handle any IT challenges that arise.
Read our guide on choosing the best managed IT service provider in Alberta.
Your business needs will evolve, and The ITeam is flexible, responsive, and ready to adapt to those changes. We work diligently to not only ensure that your IT infrastructure is operating like a well-oiled machine but also to ensure that we're focused on the challenges of your specific industry. From specific compliance and governance requirements to unique trends in your business, we customize what we do to fit your needs.
There are many aspects of a well-rounded approach to IT service management, and the ITeam strives to meet every need of their clients through proactive planning and execution. Comprehensive services range from remote maintenance to fully managed cloud hosting, with limitless benefits for your business. Regardless of whom you choose as a managed service provider, your choice should meet all the above qualifications to ensure that your IT needs are fully met, that you can achieve measurable ROI, and that you have peace of mind knowing your business is in good hands. Get in touch today to learn more.