Ingram Micro Inc., the world's largest technology distributor, has nominated The ITeam for a 2017 Canadian Cloud Partner of the Year Award in the category of Fastest Growth Cloud Partner. Winners will be announced at this year's Cloud Summit in Phoenix, Arizona on April 19.
"The ITeam is proud to be an Ingram Micro partner and pleased to be recognized for our growth in Canada," said James Wagner, President of The ITeam Ltd.
As the shift to cloud computing has enabled businesses to be more nimble and capable of meeting customers' needs, The ITeam has worked to provide the necessary support, security strategies, and partnership required to make the shifts easier. Leveraging Ingram Micro Canada's cloud products has allowed The ITeam to deliver cost-effective, comprehensive, customized solutions to clients. These efforts have allowed the firm to be recognized for "thought-leadership, innovation, and commitment to embracing a new technology landscape." The ITeam extends congratulations to the other nominees in the fastest-growth category, CTECH Consulting Group Inc. and Optimus Tech Solutions.
As technology continues to change, organizations must move quickly to remain competitive. Organizations like The ITeam recognize the necessity of providing cost-effective, secure, reliable access to the increased volume of mission-critical applications that rely on cloud services to thrive.
"The ITeam offers comprehensive managed services, virtual CIO services, and flat-rate offerings that are customized to meet our clients' needs, regardless of their industry and customer base," said Wagner. "Partnering with Ingram Micro is a smart choice for us to be able to better serve our clients."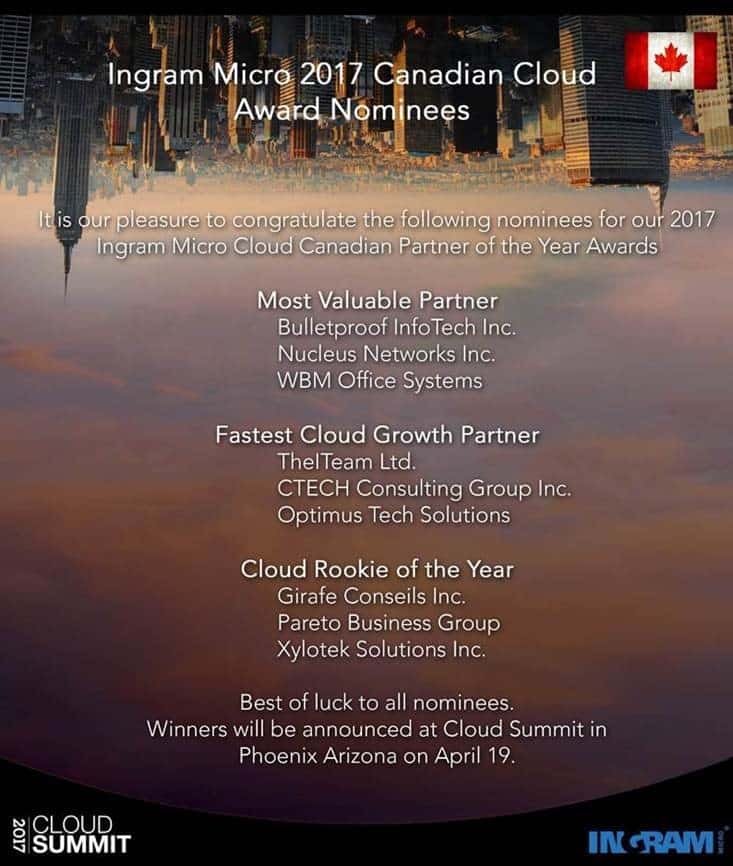 About The ITeam
A true Calgary-based  IT company known for delivering quality IT results for over 20 years, The ITeam believes in more than building a business; we believe in building client relationships. The ITeam can provide your company with IT services, utilizing IT industry standards and developing a customized approach to solving your IT business integration hiccups. Our team of employees has an extensive background and a history of providing successful technology implementations; we are further committed to demonstrating superior service with our ongoing support. You will work with the highest qualified people to keep your company running smoothly.
About Ingram Micro Inc.
Ingram Micro Inc. is the world's largest wholesale technology distributor and a global leader in IT supply-chain and mobile device lifecycle services. As a vital link in the technology value chain, Ingram Micro Inc. creates sales and profitability opportunities for vendors and resellers through unique marketing programs, outsourced logistics and mobile solutions, technical support, financial services, and product aggregation and distribution. Ingram Micro Inc. is the only global broad-based IT distributor, serving approximately 170 countries on six continents with the world's most comprehensive portfolio of IT products and services. Visit IngramMicro.com.