Calgary-based managed services company, The ITeam, named one of Canada's 50 Best Managed IT Companies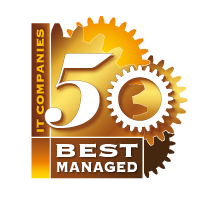 Calgary, Alberta – February 2019 – We are pleased to announce that The ITeam Ltd. has been recognized as one of the Top 50 Best Managed IT Companies in Canada by TechnoPlanet, who hosted black-tie gala at the Old Mill in Toronto to celebrate the winners.
Top 50 Best Managed IT Companies in Canada is an award of excellence to recognize 50 Value Added Resellers (VARs) or Managed Service Providers (MSPs) in Canada. Of the over 1500 Canadian IT companies that qualified, only 50 were ultimately selected to receive the award.
What It Means to Be One of the 50 Best Managed IT Companies
"The ITeam is honored to be recognized with this prestigious award. I am proud of my entire team for their hard work and contribution to this." – James Wagner, President of The ITeam Ltd.
This award is based on an analysis of over 200 data points covering 12 different business categories such as sales process, marketing, operations, financial and leadership. The award also takes into consideration an analysis of several public areas, such as the strength of our digital presence including our website, social media, search engine results and marketing campaigns as well as other activities such as charity, community work, customer testimonials and other achievements. Eight judges review and audit each company.
Julian Lee, CEO and President of the North American technology channel marketing and communications specialists TechnoPlanet, launched the 50 Best Managed IT Companies Awards program to recognize the VARs, MSPs and ITSPs who truly operate their businesses effectively. "The primary goal is simply to help all VARs, MSPs, ITSPs, MSSPs and ISVs to benchmark their best business practices and hopefully improve. Our big mission is to help the entire channel to become bigger, better, stronger and smarter so it may remain vibrant, well into the future." – Julian Lee, CEO of Technoplanet.
ABOUT TECHNOPLANET & THE 50 BEST MANAGED SERVICE COMPANIES AWARD
TechnoPlanet is an international channel marketing and communications company that specializes in the technology industry. Since 1993, TechnoPlanet has been developing best-practice channel solutions that help technology manufacturers develop and manage their channel partners.
Over 1,800 nominees from 4 countries worldwide were evaluated in their business practices including Business Vision & Strategy, Operations Processes, Financial Management, Leadership & Management, Sales & Marketing Processes, and Customer Satisfaction. Winners were selected based on a rigorous review of the best practices that are used to run their business.
Award winners are amongst the best-of-the-best in the IT Channel in their country when it comes to running their businesses. They have the best business leaders in the IT industry, are poised to have sustainable success in the future, offer superior customer service, and attract and retain the top talent in the IT industry.