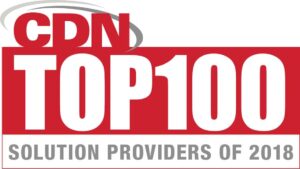 Calgary, Alberta – April 30, 2018.
The ITeam, Calgary's leading source for Managed IT support and cloud services, is pleased to announce that the Calgary-based managed services firm has again been recognized by Computer Dealer News (CDN) as one of the 2018 CDN Top 100 Solution Providers.
The top 100 IT solution providers were revealed during a gala awards ceremony on April 25 that celebrated the many contributions these firms have made to Canada's technology sector. The ITeam has been recognized several times by Computer Dealer News.
The ITeam is dedicated to strengthening technology and cybersecurity of Alberta and Canada.
"The ITeam is honoured to once again be recognized by Computer Dealer News," says James Wagner, President of The ITeam. "Our team is committed to delivering the most comprehensive managed IT and cybersecurity – and the highest levels of service – to clients throughout Alberta. Being named a CDN Top 100 Solution Provider is recognition for that commitment."
Every year, CDN collects data to develop an industry benchmark report that ranks major Canadian IT solution providers. See the complete list: CDN Top 100 Solution Providers
About The ITeam
The ITeam has been delivering quality IT results for more than 20 years. As the shift to cloud computing has enabled businesses to be more nimble and capable of meeting customers' needs, The ITeam has worked to provide the necessary support, security strategies, and partnership required to make the transitions easier. The ITeam delivers cost-effective, comprehensive, customized solutions to clients.
About Computer Dealer News
The voice of the IT solution provider community in Canada for more than thirty years — is the most widely read and trusted source of information for Canadian channel executives. Providing insightful commentary on technology products and services and covering the key players that are impacting this segment, CDN also delivers a critical analysis of the competitive landscape detailing both the challenges and opportunities facing solution providers. www.computerdealernews.com