Calgary, AB – February 22, 2022 – TechnoPlanet Productions has once again recognized The ITeam as one of Canada's 50 Best Managed IT Companies
"This award is recognition of our entire team and their dedication and commitment to serving our clients," said James Wagner, president of The ITeam. "It is a huge honour to be recognized for our operational excellence."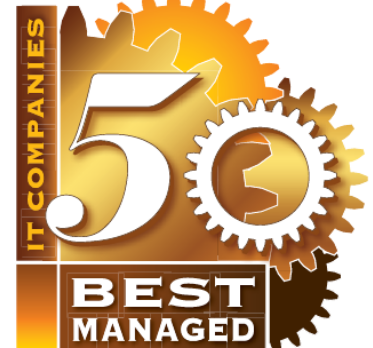 The 50 Best Managed IT Companies is an award recognizing 50 value-added resellers (VARs), managed service providers (MSPs), and internet telephony service providers (ITSPs) that demonstrate excellence in all areas of business practices. Each answer is scored and benchmarked, with the top 50 highest-scoring companies receiving the award. Over 1,800 nominees from 4 countries worldwide were evaluated.
Awards were announced in early February at a virtual awards gala. To qualify for the award, a company must prove distinction in every area of business operations. These areas include vision, strategy, leadership, management, sales process, marketing, finance, operations, help desk support, and services. Also measured are supplier and customer satisfaction.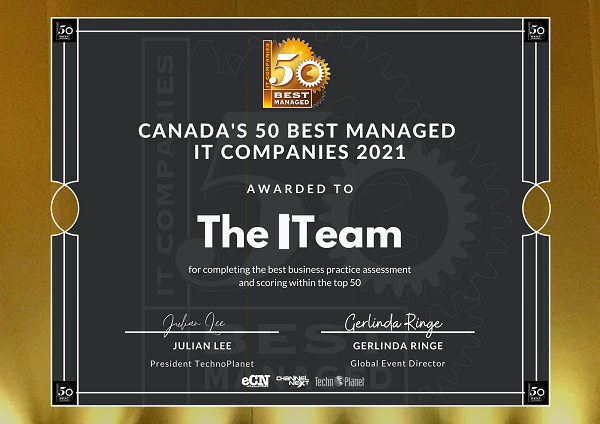 About TechnoPlanet Productions and the 50 Best Managed IT Companies Award
TechnoPlanet is an international channel marketing and communications company that specializes in the technology industry. Since 1993, they have been developing best-practice channel solutions that help technology manufacturers develop and manage their channel partners.
Award winners are amongst the best of the best in the IT Channel in their countries when it comes to running their businesses. They have the best business leaders in the IT industry, are poised to have sustainable success in the future, offer superior customer service, and attract and retain the top talent in the IT industry.
About The ITeam
Providing your company's IT Services, The ITeam, utilizing IT standards, provides Managed IT Services customized to your business. Committed to demonstrating superior service, our team of employees have an extensive background of successful technology implementations and on-going support. You will work with the highest qualified people to keep your company running smoothly.
See the full list here.
---
Whether you are a healthcare firm, an oil and gas company, a legal firm, or a part of the many other industries The ITeam supports, such as construction and accounting, the ITeam is committed to helping Calgary- and Alberta-based businesses develop proactive, cost-effective IT strategies that minimize risk and maximize efficiency. Contact us to learn more.