October is Cyber Security Awareness Month (#CyberMonth) in Canada. This year's Cyber Month theme is Fight Phishing: Ruin a Cyber Criminal's Day. All of us at The ITeam are proud to be Get Cyber Safe champions working to help Canadians stay safe online. Cyber Month gives all of us, as individuals and as organizations, the opportunity to consider ways in which we can better protect ourselves, our loved ones, and our organizations.
Fight Phishing this #CyberMonth
Phishing is a type of scam in which a cybercriminal sends a message pretending to be from a person or organization the recipient knows to get them to reveal their sensitive information. These messages are designed to create an emotional response in the recipient – a sense of urgency that causes them to act without thinking. Types of scams include emails or messages that appear to come from a supervisor, urging the recipient to take immediate action by wiring money or providing a password. The message can appear to come from a vendor or customer or someone from within the company.
Ruin a Cyber Criminal's Day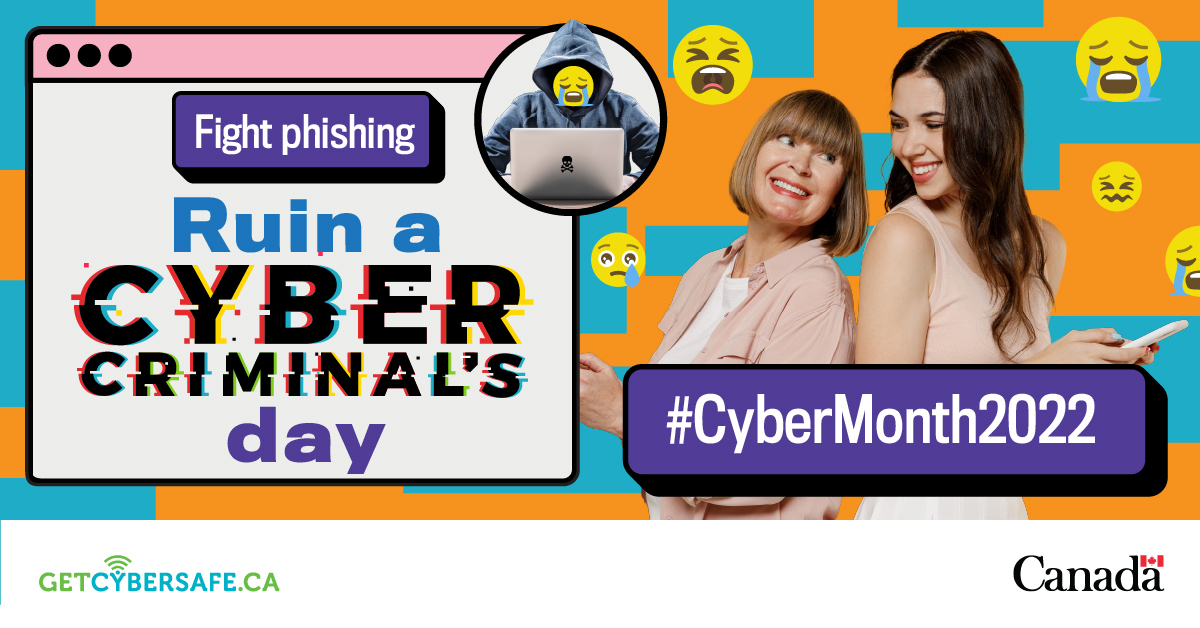 Phishing is one of the biggest cyber threats Canadians are facing today, and the cyber criminals are not just sticking to email. They'll send messages by email, text, or direct message on social media; they'll even use voicemails. But by learning to spot the signs of phishing, you can help ruin a cyber criminal's day. It takes vigilance on the part of every individual combined with policies and protocols implemented at every organization to stop cyber criminals in their tracks.
What Happens If Someone in Our Organization Receives a Phishing Message?
If you or someone in your organization receives what you suspect to be a phishing message, don't panic! Take the following steps:
Avoid clicking on any links
Do not download or click on any attachment
Do not reply to the message
Do not forward the message to anyone else
Contact your MSP or IT department
Cyber Security Is a Shared Responsibility
Everyone plays a critical role in cyber security, at home and at work. Be sure to follow The ITeam on Twitter, Facebook, LinkedIn, and Instagram for tips about how to improve your cybersecurity during #CyberMonth and all year long.
To help fight phishing, take action:
Help promote Cyber Month on your own personal social media channels
Make sure you're following cyber security best practices at work and at home
Talk about cyber security with friends and family
Educate yourself about the signs of phishing
We wish you a very safe and happy Cyber Month! If you have any questions, please get in touch.